Recommend this on Google
Follow Us on Twitter
Find Us on Facebook
Our Promotions
Take advantage of these special offers today!

Get Free Access to Snowcreek Athletic Club!
Guests will have complimentary, daily access to the indoor pool, fitness classes, gym equipment, yoga, cycle and pilates studios, steam/sauna and more!.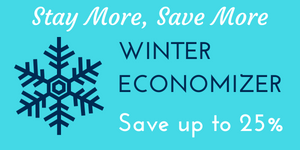 Stay More and Save More This Winter - Up to 25% off!
Book five or more nights this Winter and save BIG on your Mammoth vacation rental:
5-6 nights = 15%
7-9 nights = 20%
10-14 nights = 25%
Valid 11/14/18 - 6/1/19. Must book online with promo code. Not valid during holiday and blackout periods. Other restrictions may apply.
PROMO CODE: WINTERECON19

Come Back and Save 10%!
Previous guests enjoy a 10% return guest discount, so come on back! Holiday blackouts apply, must provide proof of prior occupancy (past 12 months), not valid with other offers.
PROMO CODE: RETURN10
Book Online and Save $25!
Book your mammoth reservation online and save an instant $25. Not valid with other offers.
PROMO CODE: ONLINE25
Last Minute Deals
Call for Last Minute Spring Deals, available five days prior to arrival. Call 1-800-325-8415.
2018-19 Holidays
The following are the 2018-19 holiday periods.
Thanksgiving: 11/22 - 11/25
Christmas/New Year's Week: 12/21 - 1/5
MLK Weekend: 1/17 - 1/20
Presidents Week: 2/14 - 2/17